Joined

Oct 12, 2007
Messages

15,234
Reaction score

2,667
We've put up the final release image of Incredible PBX for XiVO. It works
only on the Raspberry Pi 3
. Don't even attempt it on a RasPi 2. XiVO requires a lot of resources, and the RasPi 2 simply does not have the necessary horsepower. The 1.3GB image and a Mac script to create a microSD card from the image are both available on
SourceForge
. Be sure to use at least an 8GB microSD card, preferably 16GB or larger. Don't even waste your time without a Class 10 card!
Special thanks to Iris-Network for the original Raspivo - XiVO build. XiVO 16.10 with Asterisk 13.10.0 now available Newer build with WiFi and Bluetooth support available after 4:30 p.m. EDT, Sunday, 08/28/2016.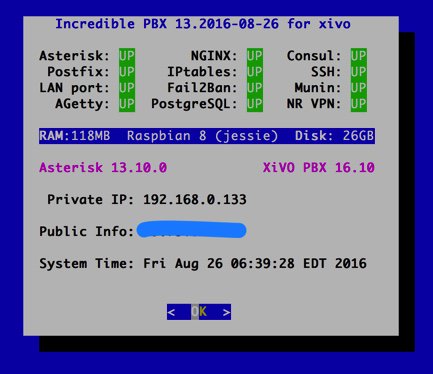 1.
Download
and unzip image to your desktop
2.
Burn image to microSD card
3. Boot RasPi 3 from microSD card
4. Log in as root with password of
password
5. Initial config will place you in raspi-config to resize the image to your SD card's dimensions
6. After reboot, login from desktop PC using SSH or Putty at the IP address shown in step #5 to set up passwords
7. After install completes, add trunks and inbound and outbound routes as desired (see below).
NOTE: Google Voice scripts to
add-gvtrunk
and
del-gvtrunk
are preconfigured and ready to run in
/root
.
To get started with other trunks, point a web browser to the IP address of your PBX. Login as root with the XiVO GUI password you set up above. If you ever forget your password, you can run
/root/admin-pw-change
to reconfigure it.
XIVO Trunk Implementation Tutorials
Once you've added one or more trunks, you'll need to tell XiVO how to route outgoing and incoming calls. Here are our step-by-step tutorials on setting up
Outbound Calling Routes
and
Incoming Call Routes
:
XIVO Call Routing Tutorials
Basically, this install is the same setup as the one for
VirtualBox in this week's Nerd Vittles article
.
The original
Incredible PBX for XiVO tutorial is here
.
Feedback appreciated!
Last edited: