Joined

Oct 12, 2007
Messages

15,404
Reaction score

2,734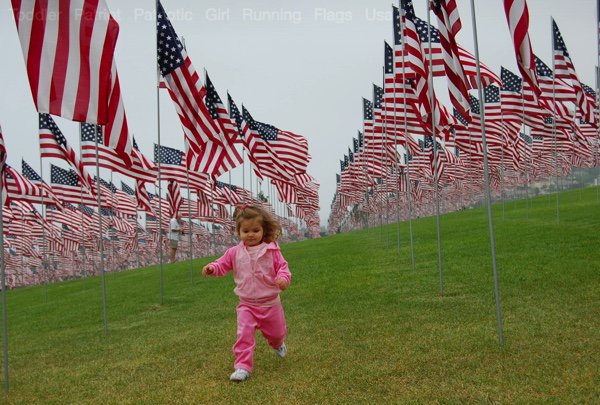 For all of those addicted to FreePBX (GPL modules only), we're pleased to announce the Pioneer Edition of Incredible PBX for Issabel 4. Start by building an Issabel 4 platform using the
Nerd Vittles tutorial
. Then log into your server with SSH/Putty as root from a PC you want WhiteListed in TM3. Issue the following commands:
Code:
cd /root
wget http://incrediblepbx.com/IncrediblePBX11-Issabel4.sh
chmod +x IncrediblePBX11-Issabel4.sh
./IncrediblePBX11-Issabel4.sh
INSTALL NOTES:
1. As with all Incredible PBX builds, running the installer will erase ALL of your existing Issabel configuration. Start with the basic Issabel 4 install without adding components or making setting adjustments.
Incredible PBX is a two-step install which means you have to run the installer twice. The first pass gets CentOS 7 updated and then reboots. Log back in and run the installer again which loads all the Incredible PBX goodies including the latest generation TM3 WhiteList Firewall. All firewall customizations are now in
/usr/local/sbin/iptables-custom
. You can change the nature of PortKnocker additions from temporary (until
reboot
or
iptables-restart
) to permanent by running:
iptables-knock activate
DO NOT ACTIVATE THE FIREWALL USING ISSABEL'S GUI.
Ours is
better
self-configuring.
2. You'll be prompted during both passes to create a password for MySQL/MariaDB and an admin password for the Issabel web GUI. The MySQL password
MUST
be passw0rd (with a zero), or you will get a permanent mess. The admin password can be anything you like. Passwords can be changed anytime by running
/root/admin-pw-change
.
3. Reboot when the final pass completes to activate Asterisk and turn on the TM3 IPtables firewall and Automatic Update Utility. With the exception of your root, admin, and MySQL passwords, the rest are stored in
/root/passwords.FAQ
. Your PortKnocker credentials are stored in
/root/knock.FAQ
.
4. gvoice is broken... for the hundreth time. SMS support is dead until gvoice returns. Incredible Backup and PPTP have not yet been tested. Other than that, Issabel 4 is an extremely clean build of Asterisk 11, and you should have no telephony problems.
5. Google Voice support is available through the preconfigured Simonics SIP trunk and a Simonics signup. WebMin is available on port 9001 with your root password. We recommend NOT making changes from within WebMin. Great tool to look at your server, however. NeoRouter client is available for VPN access after running
nrclientcmd
.
6. About a dozen trunks are preconfigured. Just insert your credentials and enable the desired trunk(s). TollFree Calling works without any additional configuration (try calling Delta @ 800-221-1212). Two extensions are preconfigured: 701 with NAT and 702 without NAT (passwords are in /root/passwords.FAQ). Lenny works by dialing L-E-N-N-Y. Conference is preconfigured, just dial C-O-N-F (passwords are in /root/passwords.FAQ). DISA is preconfigured, just dial D-I-S-A (password is in /root/passwords.FAQ). Dial 1-2-3 to schedule reminders (password is in /root/passwords.FAQ). Demo IVR is preconfigured, dial D-E-M-O. ODBC stuff works (dial 222 and enter 12345 for employee number or dial 223 and enter 335 for DELta Airlines AsteriDex dialcode). News Headlines, dial 951. Weather by ZIP Code, dial 947. Voice Dialer (411) works after entering your Speech Recognition API key in /var/lib/asterisk/agi-bin/speech-recog.agi. Wolfram Alpha (4747) works after entering your registered APPID in /var/lib/asterisk/agi-bin/4747.
Don't forget to set up outbound and inbound route for your activated trunks! For Google speech recognition to work, you'll need an API key.
See tutorial here
.
7. Use
halt
and
reboot
to shutdown or restart your server. Use
iptables-restart
to reload IPtables and Fail2Ban.
pbxstatus
gives you the Incredible PBX status dialog. Lots of the standard Incredible PBX utilities in /root. Feel free to explore. Do
NOT
rerun
add-portknocker
script.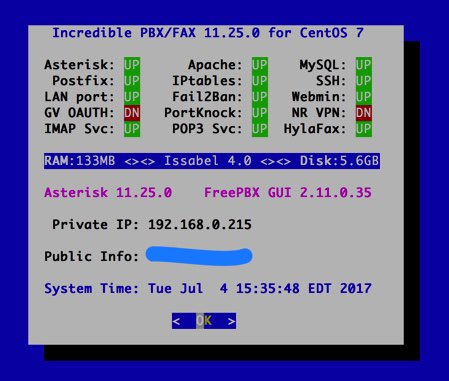 Feedback appreciated!!
Original Issabel 4 announcement with copyright and license info
here
.
Last edited: