Joined

Oct 12, 2007
Messages

15,154
Reaction score

2,632
Just wanted to document for everyone what the long-term vision for Incredible PBX is. We're gradually reworking Incredible PBX 11 into a self-contained module for all platforms.
Incredible PBX 11 is pure open source GPL2 code so you can embellish it in any way you like. The goal is to get all of the platforms in sync including CentOS 6.5 and 7, Scientific Linux 6.5 and 7, Ubuntu 14, Fedora 20, and Raspbian. You won't need a base PBX in a Flash or RasPBX platform to install Incredible PBX 11 although you still will be able to go this route if desired. All platforms will have the automatic update utility built in.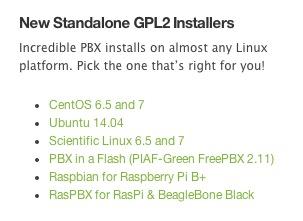 Ultimately, we hope to get to a single installer for Incredible PBX 11. For now, they're separate. The advantage to the new design is you should be able to move between platforms with a simple backup and restore which is now available using the latest
Incredible Backup 11
.
Once we get all of the Asterisk 11/FreePBX 2.11 platforms stabilized with Incredible PBX 11, we then will release Incredible PBX 12 with Asterisk 12/FreePBX 12 for all of the platforms.
We introduced the new
Fedora 20
and
Ubuntu 14 versions of Incredible PBX 11
last month. We introduced the new
CentOS 7 and Scientific Linux 7 version of Incredible PBX 11
last week. And tomorrow we'll release the new I
ncredible PBX 3.11.11 for the Raspberry Pi B+
. That leaves CentOS 6.5 and Scientific Linux 6.5 still to do.
For the pioneers, I'm pleased to announce that we have an enhanced flavor of last week's CentOS 7 installer that now supports both CentOS 7
and
CentOS 6.5 (
64-bit versions only!
) as well as the Scientific Linux flavors. The objective here is to have a production-ready platform so please give it a healthy workout and provide any recommendations/suggestions/bug reports. Thanks.
1 (a). Begin by loading a minimal ISO install of
64-bit
CentOS 6.5
or
Scientific Linux 6.5
(no SL minimal ISO is available). Or...
1 (b). VirtualBox images (root:
p
assword) for SL-minimal are available on
SourceForge
for both 6.5 and 7 if you just want to experiment.
2. Then issue the following commands:
Code:
cd /root
yum -y install net-tools wget nano
wget http://incrediblepbx.com/incrediblepbx11.4.centos.tar.gz
tar zxvf incrediblepbx*
./IncrediblePBX*
p.s.
Scientific Linux 6.5 still needs a little cleanup on the status app, but we know about it
.