Joined

Oct 12, 2007
Messages

15,385
Reaction score

2,728
For the brave and the restless, we're uploaded the new Incredible PBX + Incredible GUI build for Scientific Linux 6.6 with Asterisk 11 and version 12 of the GUI.
Download and install VirtualBox on your desktop of choice
Double-click image on desktop to import into VirtualBox. B

e sure to check the

Reinitialize the Mac address of all network cards

box and then click the

Import

button.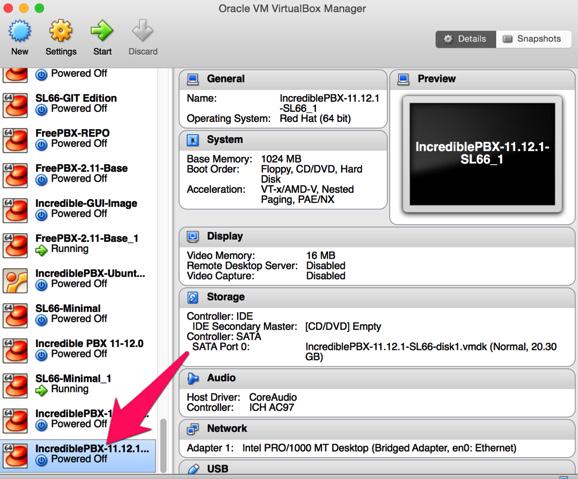 Click on the Incredible PBX Virtual Machine in the VM List. Then click
Settings -> Audio
and check the
Enable Audio
option and choose your sound card. Save your setup by clicking the
OK
button. Next click
Settings -> Network
. For Adapter 1, check the
Enable Network Adapter
option. From the
Attached to
pull-down menu, choose
Bridged Adapter
. Then select your network card from the
Name
list. Then click
OK
. Finally, click
Settings -> System
, uncheck
Hardware clock in UTC time
, and click
OK
. That's all the configuration that is necessary for your Incredible PBX Virtual Machine.
Once you've imported and configured the Incredible PBX Virtual Machine, you're ready to go. Highlight IncrediblePBX Virtual Machine in the VM List on the VirtualBox Manager Window and click the
Start
button. The boot procedure with your chosen operating system will begin just as if you had installed Incredible PBX on a standalone machine. You'll see a couple of dialogue boxes pop up that explain the keystrokes to move back and forth between your host operating system desktop and your virtual machine. Remember, you still have full access to your desktop computer. Incredible PBX is merely running as a task in a VirtualBox window. Always gracefully halt Incredible PBX just as you would on a dedicated computer.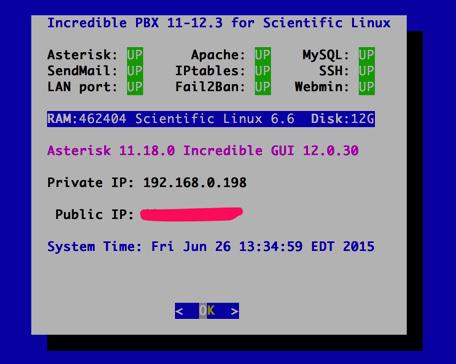 When logging in for the first time (root:
p
assword), Incredible PBX will go through some setup steps and then reboot. Login again to complete the setup.
status
will always provide a snapshot of your system. To shut down Incredible PBX gracefully, click in the VM window with your mouse, log in as root, and type:
halt
. Be sure to complete the following setup steps from the Linux CLI:
Change your root password: passwd
Set your FreePBX admin password: /root/admin-pw-change
Set the admin password for web apps: htpasswd /etc/pbx/wwwpasswd admin
Set your correct time zone: /root/timezone-setup
Add WhiteList entries to firewall if needed: /root/add-ip or /root/add-fqdn
Store PortKnocker credentials in a safe place: cat /root/knock.FAQ
Login to your

NeoRouter VPN server

if desired: /root/neorouter-login
New 11-12.3 release
fixes all known bugs.
incrediblefax11.sh
works as is. This new release requires OAUTH tokens for Google Voice authentication.
See details here
for obtaining
free
OAUTH tokens.
Google Voice + sox Patch (11-12.1 release only).
Execute the following commands to clear up known bugs in initial release only:
Code:
sed -i 's| noload = res_jabber.so|;noload = res_jabber.so|' /etc/asterisk/modules.conf
sed -i 's| noload = chan_gtalk.so|;noload = chan_gtalk.so|' /etc/asterisk/modules.conf
amportal restart
yum -y install sox
If you want to enable Incredible Fax (11-12.1 release only)
, do
NOT
run the included
incrediblefax11.sh
script in the initial release only! Instead, do the following for the time being. Accept ALL defaults when you run new
incrediblefax11.sh
below:
Code:
cd /root
wget http://incrediblepbx.com/incrediblefax11-centos.tar.gz
tar zxvf incrediblefax11-centos.tar.gz
./incrediblefax11.sh
reboot
./avantfax-pw-change
./iaxmodem-restart
./iaxmodem-restart
gui-fix
 
# Be sure you have set the admin password for web apps during initial install!
# Using the GUI, log in to AvantFax from the Kennonsoft Admin menu.
# You will first be prompted for web apps credentials: admin:[I]s[/I]omething
# Then you'll be prompted for your AvantFax credentials:
# username: admin
# password: whatever you set in avantfax-pw-change step above
 
# Everything should be stable after your next reboot. AvantFax is quirky!
Feedback appreciated!