Joined

Oct 12, 2007
Messages

15,317
Reaction score

2,697
I'm pleased to report that the first of two Google Voice to SIP Gateway services is now available. This first one is from the Vestalink (aka OBiVoice) folks. Another one from
billsimon
will be available shortly. This will work great with the new Incredible PBX for Elastix 2.5 and Incredible PBX for Asterisk-GUI platforms, both of which lack Google Voice support. This setup also uses the Google-supported OAUTH authentication methodology just like OBi devices and
should
survive discontinuance of "the old way" using Asterisk Motif. No guarantees obviously!
With the GVsip service, you pay a one-time $5 setup fee to get your Google Voice number associated with their SIP gateway. This brings free Google Voice calling in the U.S. and Canada to platforms that never supported Google Voice and Asterisk Motif. It's just another SIP trunk as far as Asterisk is concerned. It also greatly improves your odds of staying connected if Google removes support for insecure authentication methods down the road! Ask yourself "Is it worth 5 bucks not to lose my Google Voice connectivity?"
Other services such as CallerID lookup, E911, and Visual Voicemail are available (for a monthly fee) if you want them. If all you want is a GoogleVoice-to-SIP gateway, there are no recurring fees. No credit card required at all for the first 30 days.
The $5 special expires on April 10.
Please use our signup link in step #2 below so that our open source projects get a little share of the revenue! Here are the steps:
1. Log into the Google Voice account you wish to use with the SIP gateway using a browser. Enable Google Chat option.
2. In another tab of the same browser, s
ign up for the service using our signup link
.
3. Click on Get Access / Login with Google button.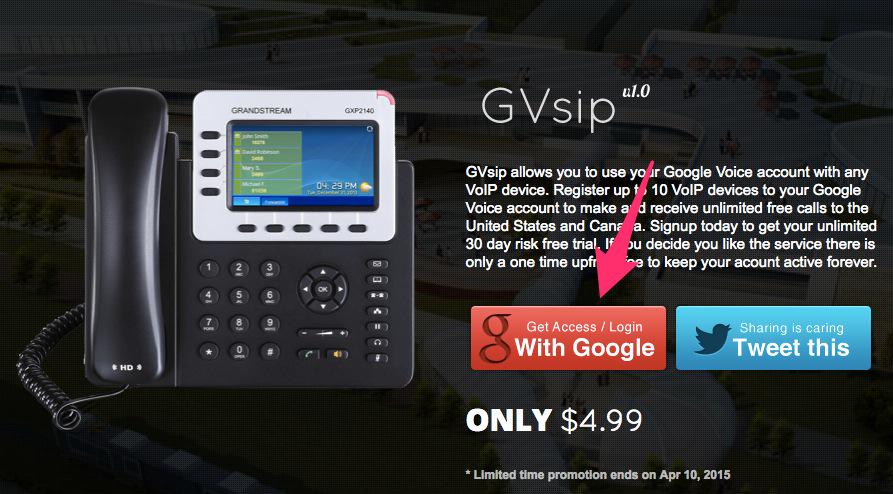 4. Associate your Google account with GVsip (your GV password will NOT be compromised!)
5. Create a SIP trunk using your new GVsip credentials:
The FreePBX/Elastix/PIAF setup should look like this using your actual
ACCTNO
and
ACCTPW
and Google Voice number instead of
8005551212
: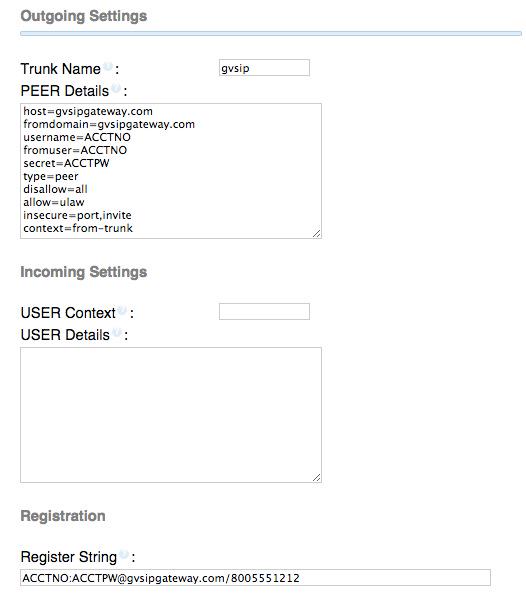 Directions for Incredible PBX for Asterisk-GUI platforms are included below.
6. Create Inbound and Outbound Routes for this SIP trunk as desired.
7.
Connect Google Voice to Your GVsip account
using the same browser.