Joined

Oct 12, 2007
Messages

15,430
Reaction score

2,737
I never thought I'd be writing about this but, if you still have your old CloudAtCost credentials, you might want to dust them off and take advantage of the
75% off discount to upgrade to their V3 platform
. It really is like a completely different animal. We've had a half dozen V3 servers running for a few months with no issues and performance is downright amazing: about 600 Mbit/sec UP and DOWN. These are VMware KVM virtual machines which makes them ideal for secure, cloud-based VoIP servers.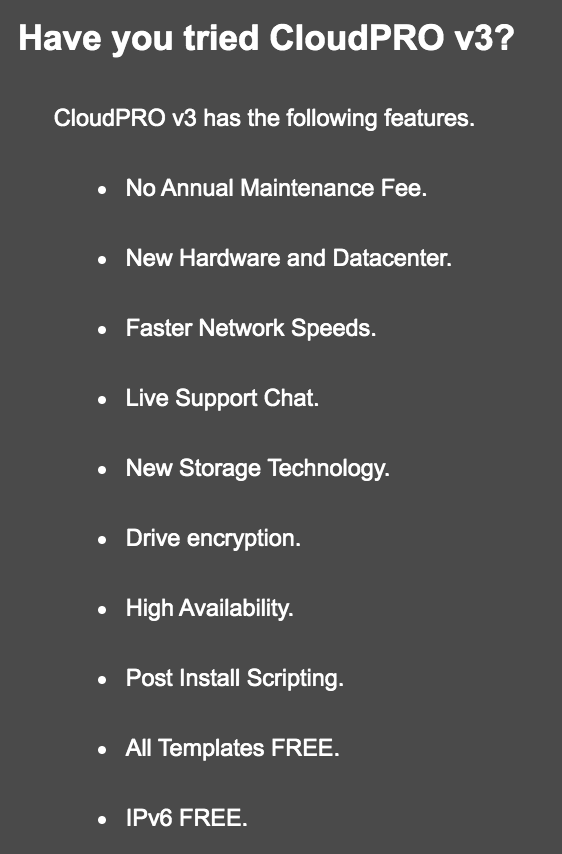 If you've never endured CloudAtCost, you can sign up for a 2GB RAM/20GB SSD platform with unlimited bandwidth for a one-time cost of $99 with no maintenance fees ever. Compared to the Vultr/Digital Ocean $10/month plan, that means you break even in 10 months and, after that, it's all gravy.
I don't want to say I'd recommend them, but it's quite a bargain if you don't mind gambling with $100. Sorry to say, we've got a couple thousand dollars invested with them so it was a no-brainer for us. Their parent company has deep pockets so they're not going anywhere, but that doesn't mean performance may someday go down the toilet.
Code:
Testing from DataCity (38.240.xx.xx)...
Retrieving speedtest.net server list...
Retrieving information for the selected server...
Hosted by CenturyLink (Indianapolis, IN) [10997.55 km]: 38.898 ms
Testing download speed................................................................................
Download: 600.01 Mbit/s
Testing upload speed................................................................................................
Upload: 574.74 Mbit/s
Last edited: